Eligibility
Both current Noble Academy students and students from outside Noble Academy are eligible to join the Single Course program. Moreover, one student can register for more than one Single Course program. Students from other homeschooling programs can also integrate Noble Academy's Single Course into their studies. Each Single Course program has different age groups available. In order to check the age group eligibility of each program, please refer to the page of the specific program.
Single Courses
It is common for students to not be able to learn and grow on the subjects they have huge interest in, or not being able to fulfill their potential on particular subjects due to the limitation and the rigidness of most school curriculums and programs. Noble Academy offers single courses in different subjects, both general and niche, in order for students' interest and potential to be fulfilled while learning them in both innovative and fun ways. It is also a great way for students from outside Noble Academy to experience what studying in Noble Academy is like.
Available Grades
Based on the subject
Eligibility
All students (both Noble Academy students and external students) from all grades (depending on the availability of the subject)
Methodologies
Depending on the course or program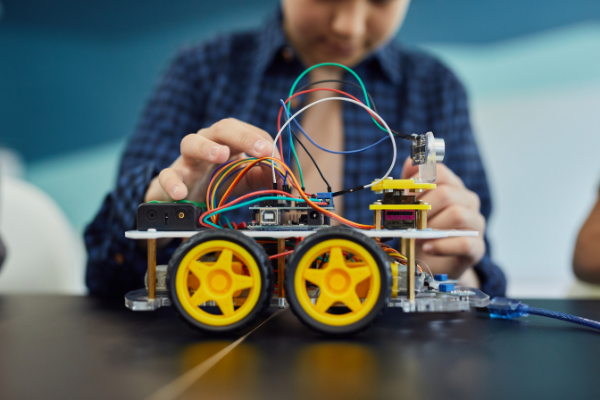 Currently, Noble Academy offers single courses in these subjects:
Science, Technology, Engineering, and Mathematics (STEM)
Deepening students' understanding in the field of science, technology, engineering, and mathematics using interactive and fun learning methodologies.
Available for grade: 1-9
Passion Project
Project-based learning in which students will learn the steps involved in a project and experience it on their own in the field of their choosing
Available for grade: 4-9
Creative Writing and Academic Writing
Encourages student to expand their vocabulary on a journey of self-expression, exploring various genres such as fiction, poetry, and non-fiction. Guide students though the intricacies of crafting compelling narratives, developing vibrant characters, and painting vivid scenes with their words.
Learning Academic writing will helps you to enhances your communication skills, foster critical thinking, contributes to academic success, boosts professional development, facilitates research and knowledge sharing, and promotes intellectual growth. 
Coding
Develop practical skill that are highly sought after in today's digital age. Learning programming concepts, practical coding skills, and the ability to approach and solve problems using code. These skill will open up a wide range of career opportunities in fields such as software development, data analysis, web development, and more.
In the future, Noble Academy will offer single courses in these subjects:
Forensic Science

Language and Literature

Advanced Mathematics

VR-Based Science

VR-Based Social Studies